Citizen
Justice Department
Public Affairs Department

IN THE COURT OF DEMOCRACYCRAFT
CIVIL ACTION
Thire_
Plaintiff
v.
The State
Defendant
COMPLAINT
The Plaintiff complains against the Defendant as follows:
On the 8th of September Congressmen Krix proposed a bill. This bill is titled "Congressional Jurisdiction act". In the bill, it outlines the need for Congress to have full authority of what is done to the interior and exterior of the Capitol Building. It is however not their legal right to write this into law. In the constitution it states that "Congress cannot give themselves power over other branches of Government nor can they take power away from them.". Within this bill it states that the Department of Construction and transport cannot alter the Capitol without congress approval. The Capitol building is classified as a government building. The DCT have full authority over government buildings as outlined in the constitution "The department is charged with the creation of Government infrastructure and maintenance of build quality throughout the server's urban environments.". Although DCT has full authority over the Capitol Building, congress has decided that they want to limit what the department has jurisdiction over through this bill.
I. PARTIES
1. Thire_ (Plaintiff)
2. The State (Defendant)
II. FACTS
1. Congress created a bill to have complete control over the Capitol Building
2. The Capitol Building is a Government Building
3. the DCT have full authority over Government Buildings
4. Congress has now limited a Department's power, violating the constitution
III. CLAIMS FOR RELIEF
1. The congress has violated the constitution
IV. PRAYER FOR RELIEF
The Plaintiff seeks the following from the Defendant:
1. Complete strike of the bill
The Plaintiff also requests a Writ of Mandamus from the Courts to suspend the "Congressional Jursdiction Act" until a verdict is made.
Evidence: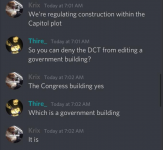 Krix (Speaker) agrees Capitol building is a government building
A BILL To Give Capitol Jurisdiction and Oversight to Congress The people of Democracy Craft, through their elected representatives in the Congress and the force of law ordained to that Congress by the people through the constitution, do hereby enact the following provisions into law: 1 -...
forums.democracycraft.net
(Bill related to the case)
Congress's jurisdiction

DCT's Jurisdiction
DATED: This 21st day of September 2020