Admin
Administrator
Representative
IN THE COURT OF DEMOCRACYCRAFT
CIVIL ACTION
hugebob23456
Plaintiff
v.
partypig678
Defendant
COMPLAINT
The Plaintiff complains against the Defendant as follows:
On multiple occasions the defendant has made
slander
ous accusations towards the plaintiff with the intent to damage their political objectives. On the 25th of September the plaintiff finally decided that the defendant had done enough damage in his actions and that a lawsuit was more than justified. The slanderous accusations for which the plaintiff has presented include accusations that the plaintiff "hate capitlzem", "Takes are work from amazon", "scams the consumer", and "sell [iron] for 5$ for 1". Defendant has on multiple occasions made similar slanderous accusations directed at the plaintiff and has had the legality of such accusations explained to him. Defendant frequently scouts out Mooshroom pricing with the intent to undercut their prices, and therefore is fully aware of Mooshroom's pricing for Iron Ingots.
I. PARTIES
1. hugebob23456 (plaintiff)
2. partypig678 (defendant)
II. FACTS
1. plaintiff is contesting the DRP nomination for President.
2. defendant opposes plaintiff's candidacy
3. plaintiff sells Iron Ingots through his company Mooshroom at a rate of $4 per ingot.
4. plaintiff does not purchase Iron Ingots from Amazon with the express intent to resell it through Mooshroom
III. CLAIMS FOR RELIEF
1. These blatantly false accusations have harmed my reputation, my business operations, and have damaged my bid for the Presidency.
2. Damages to political operations is not measurable, however damage to business operations likely exceeds $10,000.
IV. PRAYER FOR RELIEF
The Plaintiff seeks the following from the Defendant:
1. $7,000 from the defendant for damages to reputation, political campaigning, business operations, and legal fees.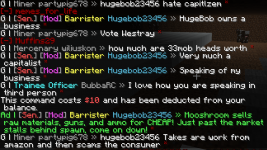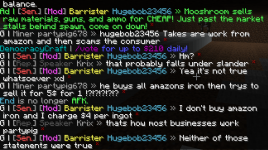 DATED: This 25th day of September 2020
Last edited: