Citizen
Justice Department
Public Affairs Department
Environment & Recreation Department
COURT OF DEMOCRACYCRAFT
Dusty_3
Plaintiff
v.
_Dark_Helmet_
Defendant
COMPLAINT
The Plaintiff, Dusty_3, complains against the Defendant, _Dark_Helmet_; as follows:
Earlier today, Dark Helmet left the NAP. He instantly joined the DRP afterwards. Not long after, a poll was made for leadership of each party. The poll had 3 questions on it. The first and second question both asked which Party do you prefer. The first one listed all the leaders of each party but in the second question, the NAP leader was changed. They changed only the NAP leader, in an attempt to undermine my leadership of my poilical party. Dark Helmet made a false statement made to harm my reputation within my party. This is clear slander, which is why im suing.
I. PARTIES
1. Dusty_3 a citizen of DemocracyCraft
2. _Dark_Helmet_, a citizen of DemocracyCraft
II. FACTS
1. The Defendant, _Dark_Helmet_, gave out false information in an attempt at hurting Dusty's leadership in his party.
III. CLAIMS FOR RELIEF
1. Because the Defendant slandered Dusty, the Plaintiff will sue for damages to their reputation
IV. PRAYER FOR RELIEF
The Plaintiff seeks the following from the Defendant:
1. Compensatory damages for Reputation, $500
2. Removal of poll and results
Evidence:
Screenshots: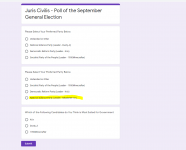 (FYI the above one has a different time as i couldnt access DC's discord so someone else sent it who has a different timezone.)